March, 2016 – Great news. I have just been appointed a board director of The Australian Society of Authors, which, by the way, offers great services for writers and authors. My friends tell me it will be lots of hard work but I am sure it will be worth every minute. I look forward to immersing myself in the world of Australia's wordsmiths.
June – This month, I signed an 18-month contract with Woodslane, who will be distributing GOM's Gold nationally through bookstores and department stores – all very exciting. Hopefully the books will start flowing onto the shelves in October.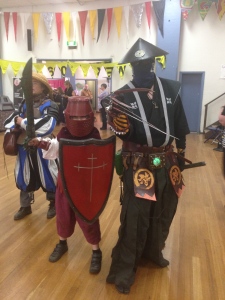 April 18 and 19 – My first author attendance at a festival – Lithgow's Ironfest. What a blast: medieval knights, steampunk punks, cave men, computer game characters – never a dull moment. GOM's Gold went down a treat.
April 2 – I conducted my first school book signing on Thursday at Blue Mountains Grammar School. Coinciding as it did with grandparents day, a great day was had by all. Children thronged to buy signed copies of GOM's Gold so it was really heartening. Lots of children also asked me to sign copies of the GOM's Gold business card – the new pen is getting a solid workout! Thank you Blue Mountains Grammar School.
March 20 – Great news, INT Books, a distributor specialising in schools and libraries has offered me a distribution contract (which I have duly signed and returned). Very exciting. This will give me an opportunity to get GOM's Gold to children in other states much more efficiently than I could ever do by myself. May the force be with them 🙂 Another distributor, Woodslane, which distributes into bookshops and newsagents, has also offered a contract – also very exciting. I am hoping to time the contract with a Christmas distribution run.
March 20 – The Book Garden is the first bookshop in Queensland to stock GOM's Gold. Thank you The Book Garden.
March 20 – Readings, a chain of bookstores in Melbourne, is now stocking GOM's Gold. You can see it on their website at http://www.readings.com.au/products/19513531/goms-gold Thank you Readings.
February 25 – The Theosophical Society Bookshop (TS Bookshop) in Melbourne is the first interstate store to stock GOM's Gold. Here's hoping a few more take the plunge. Thank you TS Bookshop.
February 21 – The book signing of GOM's Gold in the Observatory Tower went swimmingly. The library is such a gorgeous venue.
January 31 – Just conducted another GOM's Gold book signing in Big W Katoomba today and met more of the local mountains children and their families. Big W said a lot of people have been going into the store and asking if they can buy a copy (unfortunately GOM's Gold is not stocked there) and so Big W is considering stocking it, so I'll keep you posted.
January 24 – Berkelouw Books will now stock GOM's Gold. GOM's Gold will be available in Leichhardt, Hornsby and Mona Vale. I dropped the books off on Tuesday so they may not be on north-shore shelves before early February. Thank you Berkelouw!
January 12 – Dymocks Penrith is now stocking GOM's Gold so more people can buy a copy locally and support their local bookstore. Thanks Dymocks Penrith.
December 27 – We had our second book signing at Big W Katoomba. Quite a few people had spied the article in the Blue Mountains Gazette. Thanks again Lara and Big W.
December 23 – The Blue Mountains Gazette, part of the Fairfax Media stable, published an article on GOM's Gold on December 23. Check it out at: https://www.facebook.com/pages/SL-Mills/721276014634057/ Thanks Blue Mountains Gazette.
December 18 – Fresh Air Daily is the first news organisation to publish an article on GOM's Gold. Check it out at: http://www.bluemts.com.au/news/new-fantasy-novel-set-in-blue-mountains/ Thanks Ben and Jonathan.
December 13 – We had our first non-launch book signing at Big W Katoomba. Met lots of great locals who share a common passion for reading and fantasy. If you missed out, don't worry. I will be back at Big W doing another signing on December 27 between 11am and 1pm. Thanks Lara and Big W.
December 7 – GOM's Gold was launched at the beautiful Leura Everglades tea rooms on Sunday. Thanks to everyone for all your support.
December 7 – The GOM's Gold website went live, allowing readers to purchase books directly from the author online.
November 28 – Megalong Books was the first bookstore to take a consignment of GOM's Gold – yippee! Thank you Megalong Books.
November 26 – GOM's Gold was delivered to my house, hot off the printing press – oh what a feeling!